Fifty Shades Screenwriter Says They're Going for the NC-17
Universal is less certain.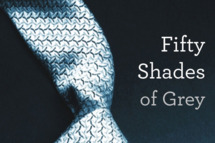 Kelly Marcel, who beat out heavyweights like Bret Easton Ellis (not even on the short list) and The Killing's Veena Sud for the honor of writing a mommy porn screenplay, claims that none of Fifty Shades of Grey's very sexy sex will be cut owing to rating concerns. "It will be rated NC-17," she told the Telegraph. "It will be raunchy." A rep for Universal was less enthusiastic about this promise, so now is the time to mail in your riding crops, America. Let your studio-sponsored-porn demands be heard.