Frank Darabont to Rewrite Godzilla Reboot
Zombie Godzilla!??!??!?!?!?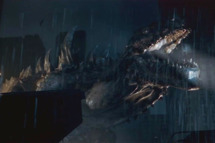 Deadline reports that Frank Darabont will be rewriting the script for the upcoming Godzilla reboot. It's a good fit for Darabont, who, years before adapting The Walking Dead for TV, got his start writing movies like The Blob, The Fly II, and Frankenstein. Let's hope Godzilla won't just appear at the very beginning and very end of the movie, leaving the bulk of the thing to a southern couple's post-Zilla marital woes.