Cory and Topanga Will Also Have a Son in Girl Meets World
Elliott Matthew, the "thinking man's jock."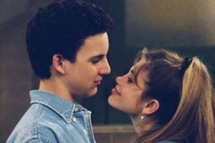 We got a glimpse of Cory and Topanga's daughter, star of the forthcoming Girl Meets World, earlier this week. Now there are a few more character descriptions, including a second Matthews offspring, 13-year-old son Elliott. "This guy will start the series as a 'thinking man's jock,'" writes EW. "He's described as 'good looking, well built, funny and insightful in his observations. Good hearted except for his dedication toward using Riley [his sister] as his wrestling practice dummy.'" Can we get some Clarissa Explains It All vibes in there?