HBO's Developing a Bored to Death Movie!
More like bored <em>not</em>&nbsp;to death.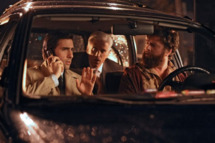 Last June, Ted Danson let slip that HBO was considering a Bored to Death feature. Well, today it was announced the thing is actually happening. The show's creator Jonathan Ames will write the script and Jason Schwartzman, Zach Galifianakis, and Ted Danson will all be reprising their roles. Let's celebrate, everyone; pour yourself a glass of your favorite white wine.