Josh Brolin to Star in Sin City: A Dame to Kill For
He's taking over Clive Owen's part.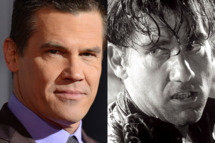 It has been confirmed that Josh Brolin will star in Sin City: A Dame to Kill For (or, for the grammatically inclined, Sin City: A Dame For Whom to Kill), Robert Rodriguez and Frank Miller's long-anticipated Sin City sequel. He'll be playing the role of Dwight. Since Clive Owen played that same role in the first film, this probably means he won't be returning. Brolin will be joining other new cast members Joseph Gordon-Levitt, Christopher Meloni, Dennis Haysbert, and Jamie Chung as well as the returning Mickey Rourke, Jessica Alba, Rosario Dawson, and Jaime King. What's black and white and red all over? These actors next October.