Lincoln Leads BAFTA Nominations
Followed by <em>Life of Pi </em>and&nbsp;<em>Les Mis&eacute;rables</em>.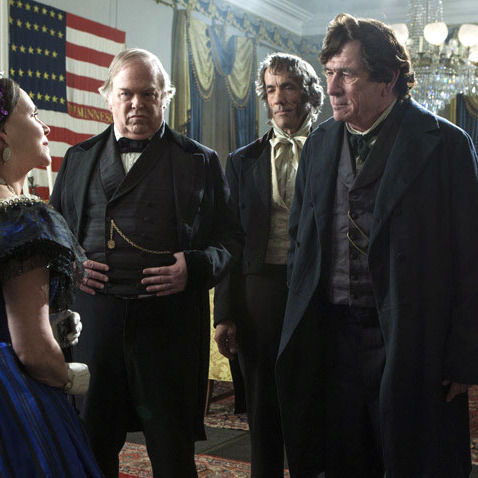 We're just chugging along on the way to tomorrow's Oscar nominations announcement, people. This morning's stop is the BAFTAs. Lincoln led the way with ten nominations, with Les Misérables and Life of Pi trailing right behind with nine. Only Pi received a directorial nomination, though, with Steven Spielberg and Tom Hooper trading out for Quentin Tarantino and Michael Haneke. Like with yesterday's DGA announcement, David O. Russell's director number wasn't called (though he did get noticed for screenplay). Silver Linings Playbook was also left out for Best Picture, with five of the other usual suspects getting nominated: Argo, Les Miz, Life of Pi, Lincoln, Zero Dark Thirty. Read the full list of nominees below. Notice that the British awards found eight places to nominate Skyfall.
BEST FILM
ARGO Grant Heslov, Ben Affleck, George Clooney
LES MISÉRABLES Tim Bevan, Eric Fellner, Debra Hayward, Cameron Mackintosh
LIFE OF PI Gil Netter, Ang Lee, David Womark
LINCOLN Steven Spielberg, Kathleen Kennedy
ZERO DARK THIRTY Mark Boal, Kathryn Bigelow, Megan Ellison
OUTSTANDING BRITISH FILM
ANNA KARENINA Joe Wright, Tim Bevan, Eric Fellner, Paul Webster, Tom Stoppard
THE BEST EXOTIC MARIGOLD HOTEL John Madden, Graham Broadbent, Pete Czernin, Ol Parker
LES MISÉRABLES Tom Hooper, Tim Bevan, Eric Fellner, Debra Hayward, Cameron Mackintosh, William Nicholson, Alain Boublil, Claude-Michel Schönberg, Herbert Kretzmer
SEVEN PSYCHOPATHS Martin McDonagh, Graham Broadbent, Pete Czernin
SKYFALL Sam Mendes, Michael G. Wilson, Barbara Broccoli, Neal Purvis, Robert Wade, John Logan
OUTSTANDING DEBUT BY A BRITISH WRITER, DIRECTOR OR PRODUCER
BART LAYTON (Director), DIMITRI DOGANIS (Producer) The Imposter
DAVID MORRIS (Director), JACQUI MORRIS (Director/Producer) McCullin
DEXTER FLETCHER (Director/Writer), DANNY KING (Writer) Wild Bill
JAMES BOBIN (Director) The Muppets
TINA GHARAVI (Director/Writer) I Am Nasrine
FILM NOT IN THE ENGLISH LANGUAGE
AMOUR Michael Haneke, Margaret Ménégoz
HEADHUNTERS Morten Tyldum, Marianne Gray, Asle Vatn
THE HUNT Thomas Vinterberg, Sisse Graum Jørgensen, Morten Kaufmann
RUST AND BONE Jacques Audiard, Pascal Caucheteux
UNTOUCHABLE Eric Toledano, Olivier Nakache, Nicolas Duval Adassovsky, Yann Zenou, Laurent Zeitoun
DOCUMENTARY
THE IMPOSTER Bart Layton, Dimitri Doganis
MARLEY Kevin Macdonald, Steve Bing, Charles Steel
McCULLIN David Morris, Jacqui Morris
SEARCHING FOR SUGAR MAN Malik Bendjelloul, Simon Chinn
WEST OF MEMPHIS Amy Berg
ANIMATED FILM
BRAVE Mark Andrews, Brenda Chapman
FRANKENWEENIE Tim Burton
PARANORMAN Sam Fell, Chris Butler
DIRECTOR
AMOUR Michael Haneke
ARGO Ben Affleck
DJANGO UNCHAINED Quentin Tarantino
LIFE OF PI Ang Lee
ZERO DARK THIRTY Kathryn Bigelow
ORIGINAL SCREENPLAY
AMOUR Michael Haneke
DJANGO UNCHAINED Quentin Tarantino
THE MASTER Paul Thomas Anderson
MOONRISE KINGDOM Wes Anderson, Roman Coppola
ZERO DARK THIRTY Mark Boal
ADAPTED SCREENPLAY
ARGO Chris Terrio
BEASTS OF THE SOUTHERN WILD Lucy Alibar, Benh Zeitlin
LIFE OF PI David Magee
LINCOLN Tony Kushner
SILVER LININGS PLAYBOOK David O. Russell
LEADING ACTOR
BEN AFFLECK Argo
BRADLEY COOPER Silver Linings Playbook
DANIEL DAY-LEWIS Lincoln
HUGH JACKMAN Les Misérables
JOAQUIN PHOENIX The Master
LEADING ACTRESS
EMMANUELLE RIVA Amour
HELEN MIRREN Hitchcock
JENNIFER LAWRENCE Silver Linings Playbook
JESSICA CHASTAIN Zero Dark Thirty
MARION COTILLARD Rust and Bone
SUPPORTING ACTOR
ALAN ARKIN Argo
CHRISTOPH WALTZ Django Unchained
JAVIER BARDEM Skyfall
PHILIP SEYMOUR HOFFMAN The Master
TOMMY LEE JONES Lincoln
SUPPORTING ACTRESS
AMY ADAMS The Master
ANNE HATHAWAY Les Misérables
HELEN HUNT The Sessions
JUDI DENCH Skyfall
SALLY FIELD Lincoln
ORIGINAL MUSIC
ANNA KARENINA Dario Marianelli
ARGO Alexandre Desplat
LIFE OF PI Mychael Danna
LINCOLN John Williams
SKYFALL Thomas Newman
CINEMATOGRAPHY
ANNA KARENINA Seamus McGarvey
LES MISÉRABLES Danny Cohen
LIFE OF PI Claudio Miranda
LINCOLN Janusz Kaminski
SKYFALL Roger Deakins
EDITING
ARGO William Goldenberg
DJANGO UNCHAINED Fred Raskin
LIFE OF PI Tim Squyres
SKYFALL Stuart Baird
ZERO DARK THIRTY Dylan Tichenor, William Goldenberg
PRODUCTION DESIGN
ANNA KARENINA Sarah Greenwood, Katie Spencer
LES MISÉRABLES Eve Stewart, Anna Lynch-Robinson
LIFE OF PI David Gropman, Anna Pinnock
LINCOLN Rick Carter, Jim Erickson
SKYFALL Dennis Gassner, Anna Pinnock
COSTUME DESIGN
ANNA KARENINA Jacqueline Durran
GREAT EXPECTATIONS Beatrix Aruna Pasztor
LES MISÉRABLES Paco Delgado
LINCOLN Joanna Johnston
SNOW WHITE AND THE HUNTSMAN Colleen Atwood
MAKE UP & HAIR
ANNA KARENINA Ivana Primorac
HITCHCOCK Julie Hewett, Martin Samuel, Howard Berger
THE HOBBIT: AN UNEXPECTED JOURNEY Peter Swords King, Richard Taylor, Rick Findlater
LES MISÉRABLES Lisa Westcott
LINCOLN Lois Burwell, Kay Georgiou