Salma Hayek Returning for 30 Rock Finale
What about the Generalissimo?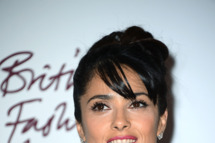 Add Salma Hayek to the list of guest stars for the 30 Rock series finale. According to EW, Hayek will join Nancy Pelosi and Ice-T when she reprises her role as Elisa, Jack's ex-girlfriend, on the final episode on January 31. Yikes, that's soon! Might Elisa's return also mean the reemergence of telenovela villain and Jack Donaghy look-alike the Generalissimo? A girl can dream.