South Park Scales Back New Season
This year will have only ten episodes instead of fourteen.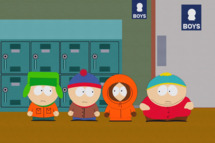 There will be a little less South Park in 2013 than in the previous sixteen years of the show's existence. Creator Matt Stone tells the Times that the upcoming season, which begins in September, will only have ten episodes rather than fourteen episodes (split into two seven-episode batches) like recent years. "Why did we do seven and seven to begin with?" he said. "We just sort of made that up. And we are switching to 10 for the same reason. It just sounded like a good number, and we won't break up the year so we can more easily do other stuff." Comedy Central has South Park locked in through a twentieth season in 2016, so it's not as if the show's going anywhere anytime soon. Not when there's so much to ridicule.