Sundance: Matthew McConaughey Ponders His Best Song Oscar Snub
"It's a travesty," he laughs.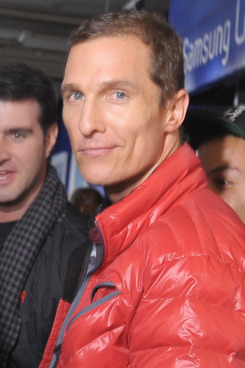 You might not have expected to see Matthew McConaughey, version 1.0, in a place like the Sundance Film Festival (not many studio rom-coms play in Park City, and the temperatures are far too cold for shirt doffing), but McConaughey 2.0, who reinvented his career last year with daring performances in indie after indie? You bet. And so it was that McConaughey celebrated last night at the Grey Goose Lounge, where he was touting his upcoming film Mud and looking back on all those 2012 indies that nourished his actor bona fides while draining his pocketbook. "They don't pay near as well," he chuckled. "It's ironic, I had my best and most fun, creative year of making films ... and I lost money for the first time!"
McConaughey's looking healthier these days after gaining back 27 of the 47 pounds he lost for his most recent indie, Dallas Buyers Club, and he said that he'll start work next week on yet another unconventional project: the HBO crime drama True Detective, where he and Woody Harrelson will play cops for director Cary Fukunaga. "It wasn't about looking to do TV — it was just looking at the material and going, 'Wow," said McConaughey. "I can't wait to hear what comes out of [my character's] mouth on the page. I mean, this thing's got fangs."
It's then that we asked McConaughey about what we consider to be last week's cruelest Oscar snub — and no, it wasn't Ben Affleck missing the cut for Best Director. How on Earth, we wondered, could the Oscars have skipped over "Ladies of Tampa," the Best Original Song contender that McConaughey co-penned for Magic Mike? Didn't voters want him onstage at the Academy Awards, singing that tune in leather chaps? "Man, right? It's a travesty," McConaughey laughed. Is it time for all concerned citizens to rise up and demand a recount? "We gotta figure that out," he said. "Help me out here!"