Terry Crews Joins Mike Schur and Dan Goor's New Cop Comedy
He's joining Andy Samberg.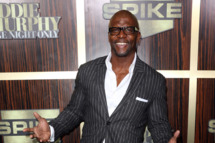 Pilot-casting season has just started heating up, and one of the hottest prizes, Terry Crews, has already found his show. Crews will join Parks and Recreation's Mike Schur and Dan Goor's untitled cop sitcom for Fox. Starring alongside Andy Samberg, he'll play a captain who has softened over time from having a family. Also, presumably, because it's Crews, this captain will have all the muscles.