We're Not Rid of Two and a Half Men Just Yet
CBS and Warner Bros. want an eleventh season.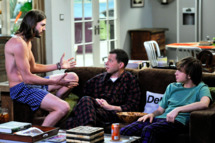 Already the current longest-running sitcom on TV, Two and a Half Men is likely here to stay for another season. CBS entertainment president Nina Tassler told an audience in Pasadena on Saturday that she and Warner Bros. were "equally interested" in extending the series. And both sides (including producer Chuck Lorre) would like to see co-star Angus T. Jones return, despite his recent issues with the show's ungodly message. Tassler called Jones a "beloved member" of the cast and added, "I think he'd like to come back too." As Les Moonves pointed out, the promise of $300,000-per-episode will do that.