American Horror Story Wants Kathy Bates
Now you're thinking of <em>Misery</em>.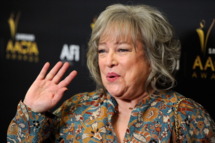 Kathy Bates gets cast on The Office or Harry's Law and, unless you're a mega-fan capable of quoting her lines from Titanic, you nod in measured approval. Kathy Bates gravitates toward the third season of American Horror Story, and Misery is suddenly in your head and everything is exciting. Should she sign on, Bates would play the best buddy turned BEST ENEMY of Jessica Lange's new character, a "real glamour cat sort of lady."