Jennifer Aniston and Owen Wilson Will Reunite for New Peter Bogdanovich Movie
It's called <em>She's Funny That Way</em>.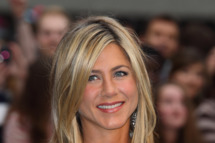 Jennifer Aniston has joined the cast of She's Funny That Way, Peter Bogdanovich's first feature since 2001's The Cat's Meow. (The movie was previously known as Squirrel to the Nuts, which is a much better title.) She'll play a therapist whose mother is in rehab opposite her Marley and Me co-star Owen Wilson, who will portray a Broadway director trying to launch the acting career of a former prostitute. Filling out the She's Funny That Way cast are awkward American Pie dad Eugene Levy, Jason Schwartzman (a favorite of producer Wes Anderson), the amazingly funny Kathryn Hahn, and the one and only Cybill Shepherd.