Annie Gets a Late-2014 Release Date
Get excited to spend Christmas with Quvenzhané Wallis.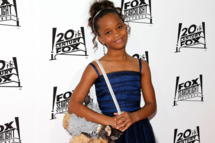 On Oscar day, it was officially announced that Quvenzhané Wallis will star in the Will Gluck–directed, Will Smith and Jay-Z-produced Annie. Not surprisingly, her casting was all they needed to start moving forward quickly. Now a few days later, we already have a release date, December 25, 2014. Night at the Museum 3 also comes out that day. Merry Christmas, parents: You now have plans to see two movies.