Argo Tops Split Field at 2013 BAFTAs
Other winners include <em>Skyfall</em>, <em>Les Mis&eacute;rables</em>, <em>Argo</em>, <em>Life of Pi</em>.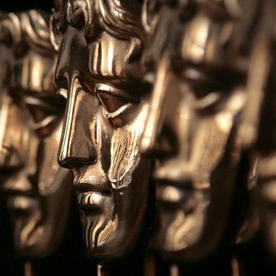 The winners' field at this year's BAFTAs was pretty evenly split between the top contenders. Here are the big ones: As expected, Argo clinched Best Film, while Ben Affleck took home the Best Director trophy — a win he called his "second act." Daniel Day-Lewis won the Best Leading Actor award for Lincoln. Concerns about a showdown between Best Leading Actress contenders Jessica Chastain and Jennifer Lawrence turned out to be pointless, as the honor went to Amour's Emmanuelle Riva. Anne Hathaway grabbed yet another Best Supporting Actress nod for Les Misérables, and Quentin Tarantino got Best Original Screenplay for Django Unchained. Finally, Skyfall won the Outstanding British Film honor — "This is a first for the James Bond films," observed producer Michael Wilson — as well as the Best Original Music award, courtesy of Adele. 
Outstanding British Film: Skyfall
Best Original Music: Skyfall (a.k.a. Adele)
Best Film: Argo
Best Director: Ben Affleck (Argo)
Best Editing: Argo
Best Film Not in the English Language: Amour
Best Leading Actress: Emmanuelle Riva (Amour)
Best Leading Actor: Daniel Day-Lewis (Lincoln)
Best Animated Film: Pixar's Brave
Best Original Screenplay: Django Unchained by Quentin Tarantino
Best Supporting Actor: Christoph Waltz (Django Unchained)
Best Supporting Actress: Anne Hathaway (Les Misérables)
Best Sound: Les Misérables
Best Production Design: Les Misérables
Best Hair and Makeup: Les Misérables
Best Adapted Screenplay: Silver Linings Playbook, David Russell
Best Cinematography: Life of Pi
Best Visual Effects: Life of Pi