Bald Paul Walker to Star in Hitman Reboot
Forget all about bald Timothy Olyphant.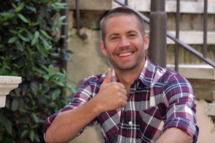 Paul Walker has an escape hatch out of the car racing movies! In the oddest decision since 2008's Ed Norton-starring The Incredible Hulk decided to pave right over 2003's Eric Bana-starring Hulk, Fox is taking a redo on Hitman, a 2007 video game adaptation that starred a chrome-domed Timothy Olyphant. The new version, titled Agent 47, will film in Singapore and Berlin starting in June. And yes, Paul Walker will be bald.