Brett Ratner Producing a FarmVille TV Show
What's the opposite of two great tastes that taste great together?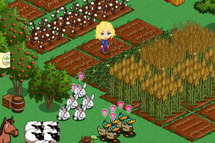 Troll human Brett Ratner and Facebook satan FarmVille are joining forces, the parties announced today. Ratner, along with a Canadian production company, will produce a FarmVille half-hour animated TV show. Don't get too horrified — there's no network attached yet — but given FarmVille's shocking ongoing popularity and Ratner's ongoing career, the show is a strong possibility. And we thought those Super Bowl commercials made farming sound bleak.