Britney Spears Is Not Headed to Caesars Palace in Las Vegas
They've already got Celine Dion, after all.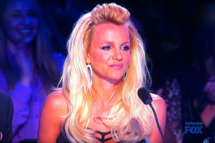 Though Las Vegas has been the scene of quite a few Britney Spears train wrecks, her X Factor exit immediately sparked rumors (on TMZ, of course) that a Vegas casino might sign her to a Celine Dion-style residency. But Caesars Palace is not one of them, according to BuzzFeed, which spoke with the casino chain's PR director. While Caesars is "always interested in having artists with the caliber of Britney Spears," she said, there are just no openings in their superstar lineup of Elton John, Shania Twain, Rod Stewart, and, of course, the "My Heart Will Go On" crooner. A few other Vegas properties may still take the plunge, but for now they're waiting for Spears to wrap up her new album.