Coen Brothers Rewriting Angelina Jolie's Unbroken
Jolie's next directorial effort.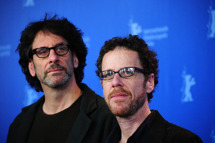 Angelina Jolie's sophomore directorial effort, originally written by Gladiator and Les Misérables scribe William Nicholson, is getting a rewrite from Joel and Ethan Coen. Unbroken follows Lou Zamperini, a 1936 Olympian turned WWII POW. Jolie, who joined the project in December, "has spent weeks searching for top-flight writers to tackle the project, with sources saying the director was extremely choosy." The Coens have been nominated for five screenplay Oscars, and they wrote The Big Lebowski, so the choosiness paid off.