David Edelstein Live-Blogs the 2013 Oscars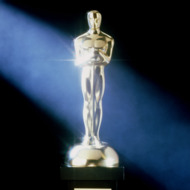 Hi, folks, great to be here talking about an Oscar that didn't kill anyone. Rim shot! Four rim shots!
In years past, I've made no secret of my disdain for the amount of space devoted to the Oscars — and awards in general. These are my latest thoughts in print. And here, on CBS Sunday Morning, some musings on Oscars voting. Recently, I thundered to my Facebook friends that "no serious critic" should delude him- or herself into believing that writing about the Oscars was "meaningful." In response, a well-known writer-director posted, "So said the whore as she cleaned up her tissues." My first thought was, "Ouch." My second was, "I guess that isn't hair gel dangling from my ear." So I shall open up a fresh box of Kleenex and settle in.
Together, you and I (and bazillions of others, but we're where it's at) are going to watch, analyze, mock, applaud, swoon, moan, and scream over every winner, loser, gesture, speech, joke, dress, hairstyle, and musical number. We will be subjecting these vulnerable people (and they are vulnerable, no matter how rich and famous they are) to the kind of scrutiny that no one in history — not Hitler, not Stalin, not Pol Pot — ever had to endure in real time via tens of millions of linked-in brains.
We go in knowing favorites (Argo, because Ben's loss is the film's gain), DDL (because he doth bestride the narrow world like a colossus), Jennifer, Annie Fannie, Bobby (unbelievably — talk about a hambone performance) … Steve, Amour, Sugarman (because the Israeli camps will blow each other out and the gays don't have enough clout for the great Plague picture) …  and we'll handle the rest as we come to them. I've seen everything but the shorts.
So here's my pitch. Send me your thoughts, objections, jokes through the live-blog comment tool … and I'll print as many as I can. (Don't hate me if I don't print something of yours — maybe I've missed it, maybe I want to rephrase the idea and pass it off as my own.) On your marks ….
Photo: Ingo Boddenberg/Corbis