Ellen Page to Make Her Directorial Debut
In a movie starring Anna Faris.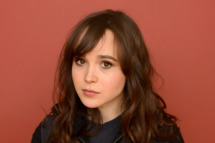 It feels like a lot of actors are making their directorial debuts right now: Joseph Gordon-Levitt, Ryan Gosling, Melissa McCarthy, and now Ellen Page. Page has signed on to direct Miss Stevens, with Anna Faris attached to star. Faris will play the titular Stevens, a down-on-her-luck teacher who chaperones a high-school trip to the state drama competition. If one of those high schoolers gets pregnant, Page would totally know what to do.