Frank Ocean Says He Forgives Chris Brown and Won't Press Charges
Taking the high road, then.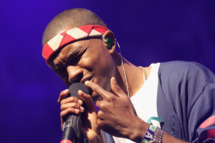 In a quick reversal from earlier this week, the R&B prodigy took to his Tumblr page to declare a one-sided ceasefire in the Frank Ocean-Chris Brown turf war that's escalated since flaring up outside an L.A. recording studio: "AS A CHILD I THOUGHT IF SOMEONE JUMPED ME IT WOULD RESULT IN ME MURDERING OR MUTILATING A MAN. BUT AS A MAN I AM NOT A KILLER. I'M AN ARTIST AND A MODERN PERSON. I'LL CHOOSE SANITY. NO CRIMINAL CHARGES. NO CIVIL LAWSUIT. FORGIVENESS, ALBEIT DIFFICULT, IS WISDOM. PEACE, ALBEIT TRITE, IS WHAT I WANT IN MY SHORT LIFE. PEACE." We call that taking the high road.