Country Singer Mindy McCready Dead of Apparent Suicide
The 37-year-old leaves behind two young sons.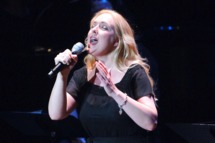 Mindy McCready, the 37-year-old country singer behind 1996's multi-platinum Ten Thousand Angels and four other studio releases, was found dead in Heber Springs, Arkansas on Sunday, of what law enforcement suspects to be a self-inflicted gunshot wound. McCready's boyfriend, David Wilson, died in January, also of a suspected suicide. The couple had a 9-month-old son, Zayne; McCready also had a 6-year-old son, Zander. McCready, who appeared on Celebrity Rehab with Dr. Drew in 2010, was ordered to a treatment facility for issues with alcohol and mental health shortly after her partner's death.