Report: Ryan Gosling Cast Eva Mendes for His Directorial Debut
<em>How to Catch a Monster</em>.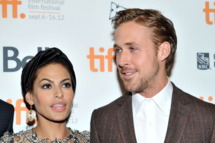 Take this with a grain of salt, but Eva Mendes is reportedly joining the debut film from her beau, Ryan Gosling. The fantasy-tinged How to Catch a Monster is set to star Christina Hendricks, who told Vulture she'll play a single mom "working in this very surreal club that gets me into a sort of predicament," and that there's an underground and/or underwater city. Mendes would play Cat, "a prominent figure of the Big Bad Wolf Club." We don't actually know what that is, but it sounds pretty interesting.