Guillermo del Toro's Secret Garden Lands Beasts of the Southern Wild Writer
She'll work closely with the <em>Pan's Labyrinth</em> auteur.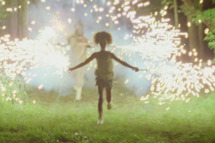 Guillermo del Toro has tapped Beasts Of The Southern Wild co-writer Lucy Alibar to pen his upcoming rendition of The Secret Garden, purchased Monday by Universal Pictures. The two are expected to work closely together in light of del Toro's maniacally busy schedule rendering him unable to direct. In the film, an orphan stumbles upon a magical garden after being sent to live with her uncle. The plan is to deviate from previous tellings of the story.