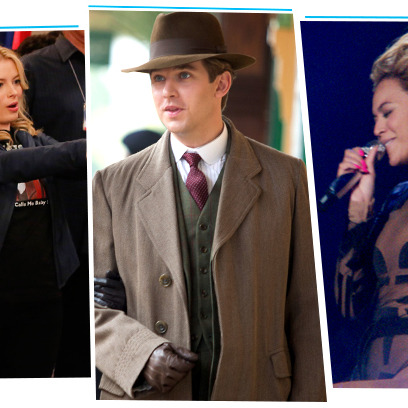 Every week, Vulture faces the big, important questions in entertainment, and comes to some creative conclusions. This week, we demanded to know why PBS won't give us Downton Abbey earlier, tried to make sense of a flailing Community, and defended Beyoncé's HBO doc Life is But a Dream (because, dammit, someone needed to!) You may have read some of these stories below, but you certainly didn't read them all. We forgive you.
Q. Which James Bond films would look best in 3D?
A. It would be kind of rad to see Roger Moore dressed as a clown in Octopussy in 3D. Here's a list of the things in all 22 Bond movies that we'd look forward to having pop out at us.
Q. What happened to our beloved Community?
A. Our TV critic Matt Zoller Seitz has some thoughts. To begin with, "It's missing that unharmonious Harmon-ian spark of madness." (Yeah, he's pretty much in mourning.)
Q. Where can I get some cool Oscar Best Picture pie charts?
A. Right here, friends. Because you did want to know how much of Argo is a mid-budget adult thriller versus how much of it is Mrs. Doubtfire.
Q. Can't PBS air Downton Abbey simultaneously with the UK so next time we won't have to know that MATTHEW DIED in advance?! 
A. Sorry, spoilerphobes. We made the case to PBS, but they have plenty of good reasons to make us wait until next January.
Q. Which Best Supporting Actor nominee is most likely to give a good speech at the Oscars?
A. Hint: He pre-wrote a great one when he won the award for Little Miss Sunshine.
Q. Isn't there anyone who appreciated Beyoncé's Life Is But a Dream?
A. Yes! And her name is Amanda Dobbins. She argues that we all need to simmer and let Beyoncé be perfect.

Q. Does Judd Apatow need script help?
A. It's a question for the ages, but The Simpsons staff wound up re-writing 70 percent of the episode he wrote for them.

Q. What exactly was Leslie Knope's one-of-a-kind wedding dress made of?
A. Love! And newspaper clippings of her accomplishments. And "Vote Knope" campaign flyers. And photos of her favorite powerful women. (Hey, I spy Sandra Day O'Connor on her skirt!)
Q. What is Anthony Jeselnik's new Comedy Central going to be like?
A. Based on his chat with Pete Holmes, pretty funny. An excerpt: "I have a joke where I go, 'Welcome to the panel. The panel that's just like Chelsea Lately, only better, because are you fucking kidding me?' That is almost the mission statement of the show."
Q. Is Smash really kaput?
A. Yes.