This Week in Jennifer Lawrence Quotes: Drinking, Décolletage, and Paparazzi
"My breasts have a life of their own."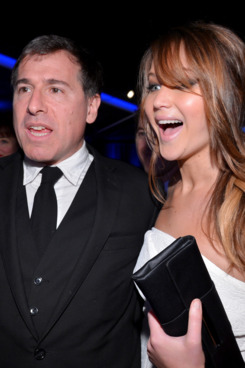 Jennifer Lawrence's Oscar-season promo blitz will draw to a close this Sunday, so come get your last fill of sparky J. Law quotes while you still can! This week, the Silver Linings Playbook star returned to L.A. to promote the film one last time, while interviews she did in London and at this month's Oscar luncheon continued to trickle out. And while you can always count on the 22-year-old actress to speak her mind, it's clear that all the attention — especially from the pernicious paparazzi — is beginning to wear on her a little. Jen, if you need to get some rest after the Oscars ... well, you won't be able to, because David O. Russell has signed you to star in every film he has coming out until 2016, but we would totally understand the impulse. (Power naps are key.) In any case, slap on some Spanx and reach for a Champagne flute, because here are eight more things we've learned about Jennifer Lawrence over the past week:
She's looking forward to this Oscar ceremony more than her last, for one key reason:
"I'll be able to drink this time," she told More! "I was only 20 last time, so hopefully I'll be more comfortable. Or at least drunk."
She's still forced to explain that Meryl Streep joke, even now:
Remember when Jennifer Lawrence said "I beat Meryl" at the Golden Globes and there was a minor furor until entertainment gays patiently explained that she was just quoting First Wives Club? Katie Couric still has not gotten that memo, and pressed Lawrence on the musty issue this week. "I thought that Meryl Streep was, like, open to make fun of because she's Meryl Streep. She's perfect!" said Lawrence. "It's like making fun of Captain Sully or something. I couldn't believe that nobody had done it, and now, with the backlash, I understand why nobody has done it."
She has a theory on why people keep discussing her breasts:
"I think people are fascinated with breasts that bounce," Lawrence told Heat. "They are so used to seeing [fake ones]. People are confused! My breasts have a life of their own."
What is she like in her off hours?
On a day when Lawrence doesn't have to shoot a movie or hit the Oscar circuit, she keeps things casual. "I never wear makeup," she told CNN. "I'm not good at putting on makeup, so I never wear makeup. I normally stay in my pajamas forever."
She's not as self-assured as you think:
"That's just my voice, my very deep voice, which makes me sound confident," Lawrence admitted to CNN. "There's no way to feel fully confident when you're photographed every day."
Speaking of that ...
Lawrence was horrified when a host at radio station WFPL mentioned that he'd just seen paparazzi shots of Lawrence shopping in a Louisville mattress store. "Wow, that's really gross. I didn't know that," Lawrence said after a long pause. "The same thing happens when I'm in L.A.: Yesterday, I had seven paparazzi following me, and they were all running red lights and I'm afraid they're going to kill somebody. And when you're trying to have a conversation with somebody, and people are just shoving their iPhones in your face and taking pictures like you're a zoo animal." She continued, "I was going to buy groceries last weekend and there was this new chain of paparazzi who just carry a video camera while they're taking pictures of you, and they start making fun of you to try to make you mad to get a reaction so they can sell it. Like what you do to monkeys in the zoo, when you just bang on the glass to try to make them mad to get a reaction. It just hurts your feelings, because you're like, 'Dude, I just want to buy some groceries and you're making fun of me with a camera in my face.' So I think it's really gross. And it makes me feel like people don't expect me to be a human anymore."
Still, she understands the photo-snapping impulse, to a certain extent:
"I saw Tommy Lee Jones, like, yesterday and I was like ten feet away from him and I was like, 'Oh my God, I want to take his picture,'" she told WFPL. "It's a different kind of respect, because I do what they do … It's like, 'You're a hero and a legend,' and people who've inspired you your whole life are right in front of you and you're having conversations with them."
She fully expects a backlash:
How is it that Lawrence is so candid and chatty in interviews that she can inspire weekly features like the one you're reading now? "I don't do it on purpose!" she insisted to WFPL. "Maybe I haven't had enough media training." The radio show host cautioned her against it; people seem to like it when Lawrence speaks her mind. "Well, that's good," she replied, adding wryly, "It's only a matter of time."