TV Ratings: Smash Drops to Series Low; Cult Is Dead on Arrival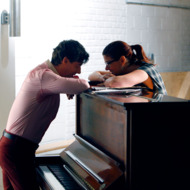 Can you hear the people sing? If they're on Smash, apparently not: NBC's once-promising musical drama fell to a series low Tuesday, averaging just 3.3 million viewers and a preliminary 0.9 rating among the network's target audience of adults under 50. That's down 25 percent from the show's abysmal second season premiere February 5 (it was preempted last week for State of the Union coverage). Now, it's worth mentioning that Smash does get a notable bump from time-shifting: Ratings for the aforementioned season premiere jumped 50 percent within three days once DVR data was tallied. But, given how tiny Smash's overnight ratings are, even a massive DVR lift won't be enough to make the show's performance look good. Viewers are simply rejecting it.
And while the show's poor ratings this year make a season three of Smash unlikely, don't rule it out completely: NBC boss Robert Greenblatt is a fierce defender of the show and may yet look for a way to reboot it (again). Meanwhile, Smash isn't the only show giving network executives headaches this morning. ABC's Body of Proof, while attracting nearly double the viewers as Smash in its return Tuesday, scored a meager 1.2 in the adults under 50 demo ABC covets. It fell more than 50 percent from its lead-in (The Bachelor) and did worse than the now-canceled Private Practice. Over at the CW, meanwhile, Cult was dead on arrival, even by the network's low threshold for success. The thriller was seen by just 934,000 viewers and averaged a 0.2 rating in the C-Dub's target audience of women under 35.
Photo: Will Hart/NBC