Yes, Judd Apatow's Simpsons Script Will Be Rewritten
Expect about 30 percent of his original to air.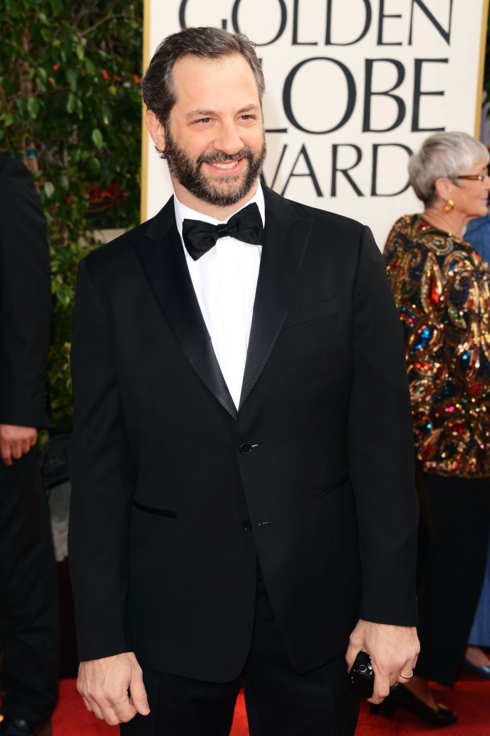 Judd Apatow announced during his This Is 40 press tour that his long-lost spec script for The Simpsons from 22 years ago was finally being made, but he neglected to mention that it was a historic occasion. How? Simpsons producer Mike Reiss told Vulture when we ran into him at the Writers Guild Awards Sunday night that it will be the first time in the show's 24 seasons, 500-plus episodes that they'll be using an outside script.
Reiss, who used to serve as showrunner, said he would read about 800 spec scripts a year, and when he first got Apatow's, "I liked it. I was already a fan of Judd's, he's a good writer, and he was a pro at the time. It wasn't like he was a kid." Still, the script, like the hundreds he received, sat around, even if it had a prime spot on his desk. "We never got around to it, and decades went by," Reiss said. At one point, ten years or so after receiving Apatow's idea — a hypnotist regresses Homer to childhood, enabling him to pal around with Bart — The Simpsons did an episode with a hypnotist, 2001's "The Blunder Years," where Homer was hypnotized and discovered repressed memories, "so we had to wait another ten years," Reiss said.
Now that the hypnotism episodes are separated by decades, Apatow's episode is on track for the 2013–14 season, which makes him the third celebrity writer to contribute, after Ricky Gervais in 2006 and Seth Rogen with Evan Goldberg in 2009. (In those instances, Gervais and Rogen/Goldberg were invited to submit outlines and scripts).
Still, Weiss says, "as great as Judd is," by the time the script is "retooled and rewritten, as all our scripts are, it'll be 30 percent his script, 70 percent everyone else's. That's how The Simpsons works. Everybody gets a rewrite. It's not their fault. That's just the machine."