Argo and Zero Dark Thirty Win WGA Awards
The Oscars are super soon!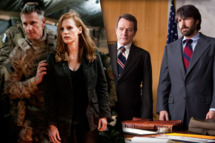 Last night was the Writers Guild Awards. Zero Dark Thirty and Argo won top honors for best screenplay and best adapted screenplay, respectively. Girls won for best new series, Louie for best comedy, and Breaking Bad won for best drama. But that's it, the last major guild award before the Oscars. Time to get our awards game faces on.