Zombieland TV Show Finds Its Abigail Breslin and Jesse Eisenberg
More kids to kill more zombies.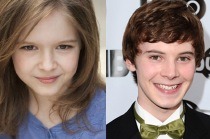 Did you know the TV version of Zombieland was going to feature the same characters Abigail Breslin and Jesse Eisenberg played in Ruben Fleischer's 2009 film? Because that's what's happening. (Also, the show is maybe going to premiere on Amazon?) Tyler Ross, star of indie Milkshake, and newbie Izabela Vidovic have been cast as Columbus and Little Rock, two of the movie's original foursome. Zombieland screenwriters Rhett Reese and Paul Wernick penned the pilot; Vulture columnist Gavin Polone is executive producing.