19 Things You Learn by Following Eva Mendes Around
She wants to work with Pedro Almodóvar so badly she found his e-mail. And more.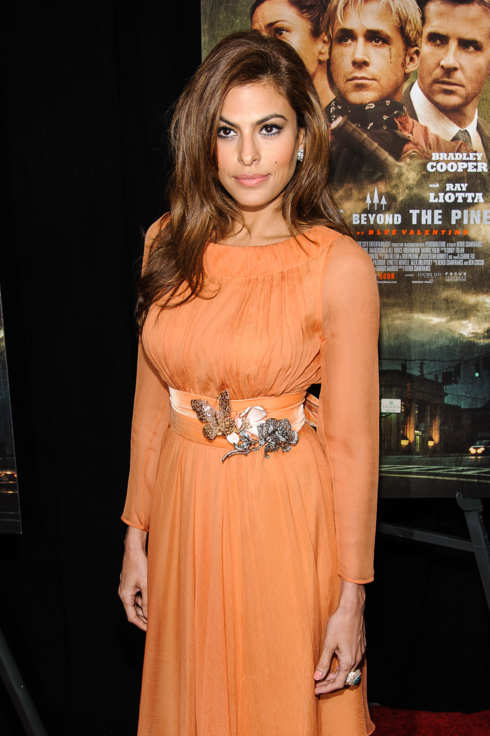 A few weeks ago, New York's Jada Yuan went skull shopping at Obscura Antiques & Oddities with Eva Mendes, who's promoting her new movie, The Place Beyond the Pines, which she shot in Schenectady with boyfriend Ryan Gosling. Judging from reader comments on the original article, she's quite a controversial public figure, particularly when she's dodging questions about Gosling and saying she'd like her dogs' faces blurred out of paparazzi photos. But as a person, she's actually pleasant and often fascinating, if sometimes perplexing, company. She's also a very good hugger (maybe she and Pines co-star Bradley Cooper are the ones who really should be together), ending the interview with a three-hug good-bye. Here are some other things Yuan learned about Eva Mendes after spending an afternoon with her.
She pays attention to money in the manner of someone who didn't grow up with a lot of it (but has a lot of it now). When the Obscura salesperson tells her that she thinks the papier-mâche skull she wants to buy is $300, Mendes immediately checks the price tag and points out he's actually $225. "He's 75 bucks cheaper. And that's a lot." (The skull went on to make its paparazzi debut the next day, and apparently got a sex change; Mendes named him/her Daphne.)
She recognizes a turn-of-the-century corset on sight. "My mom has one similar that's not too much bigger, and she said she had a nineteen-inch waist. My mom always brags about what her waist was before I ruined it. She says it with love, of course."
One of the early ideas for our interview locale had been the Tompkins Square Park Dog Run, but she left her dogs in L.A. "It's kind of like going in an elementary school when your kid is not in it," she says. "There's something creepy about going to a dog park if your dog's not one of the dogs running around in there." When I tell her that the Tompkins Square Park Dog Run actually put up "This Is Not a Petting Zoo" signs admonishing people for going in without dogs, she practically applauds. "Really? Oh my God! See, I'm not the only one that thinks it's creepy!"
Her dog Hugo is a Belgian Malinois and literally trained as an attack dog. "He's my security, but he's also my companion, so he goes with me everywhere," she says. Gosling's dog, George, is a mutt. "He's a one-of-a-kind," Mendes says, affectionately. "There's only one of him."
Best in Show is one of her favorite movies. She also loves 1985's Legend with a young Tom Cruise. She'd been reminded of that movie while looking at a devil on a stick in Obscura but couldn't remember the name of the actor who played the devil. Then a full 30 minutes later, mid-conversation at Motorino Pizza, she blurts out, "Tim Curry! That's the actor!" She cracks up. "Sorry. That's how my brain works. It might take me a while, but I'll get there."
She thinks the pizza at Motorino is "amazing!" I know this because she shouts it out several times to the waitress when talking about her family. Maybe I'm reading too much into it, but most of the times she pauses to note the necklace I'm wearing or how great the pizza is happen when she's talking about something personal. Once, after getting worked up over a reporter who'd misquoted her, she asked if she could just pause to take a bite of her pizza. She stared out the window and stopped talking. What was she looking at? "Nothing. My eyes are just fixated on this brick wall. I'm just enjoying my pizza."
Despite rumors, she didn't start seeing a therapist to deal with stress of being constantly photographed. "No," she says. "I see a therapist just for fun. I love it. Not for a specific thing, but just, like, maintenance. It's so cool."
She encourages family to go to therapy. "I'm like, 'You guys just go, trust me, go to therapy.'" But, she says, "they're still a little, they're old-school, they still think that something's got to be fundamentally wrong with you if you go. And I, obviously, I completely disagree. I think if you can go, if you have the means to go and you find the right person … I love it. I love it. And I think [therapy] has such a bad rep, too. I'm actually a painfully, painfully private person, but I've mentioned that in my interviews and stuff before because I just kind of would like to try to kill the stigma of it, you know? I think it's such a positive thing, if you find the right person."
While working with Werner Herzog on Bad Lieutenant: Port of Call New Orleans, she says she'd annoy him by trying to break down her character's history. "I'd try talk to him about stuff like, 'I think in this scene yada yada yada,' and he'd be like, 'No, no, no, no, just do it.' I would annoy him on, like, a momentary basis with all my actor-y questions and concerns, and he would be like, 'Just do it.'" She got used to it after a few days. "I was like, 'You know, he is a genius and I've been wanting to work with him for a while, so I'm just going to go with it and just do it and just not think about that at all.' But it really was hard for me because I love creating backstory and figuring out the moment before and all your obstacles in your scene, and all that fun stuff, but he wasn't about it at all. I love him. I'd work with him in a second again, but it was interesting how he definitely has his way of doing it, and to my mind I was like, 'Okay, if this is how you did Fitzcarraldo, I'm in.'"
To prepare for Pines, she lived in a house with Olga Merediz, who plays her mother, and, Mendes says, "we listened to music, we cooked, we danced, we ate, we talked, we cried." Mendes actually cast Merediz herself. Cianfrance had fifteen women brought in to read with Mendes. She felt something immediately with Merediz, who reminded her of her own mother. So she called Cianfrance and, she says, "I was like, 'I found the one that I like, but obviously I'm sure you want to look at the tapes,' and he's like, 'No, do you feel like that's your mother? Can she be your mother?' and I was like, 'Yeah,' and he was like, 'That's it. I don't need to see anything, we're going with her.' Isn't that crazy? Who does that?"
Mendes wore her own "ill-fitting jean shorts" from 1993 in the movie. "I have photos of me being 18, 19 in those shorts," she says. "They were hideous then and hideous now, but that was the style." But, she whispers, "if you actually look, the sides are, like, slit up a little more than they're supposed to be. I had a little trouble getting them over the hip."
She only got to ride on a motorcycle once in the film, when Gosling's character gives her a ride home. "I just thought it was cool that I got to ride a motorcycle without a helmet. You don't get to do that nowadays." She describes the shoot as "hard-core." There are only 22 guys in the world, according to Mendes, who can do the Globe of Death motorcycle daredevil stunt that opens the movie, and in order to get that shot, the movie's cinematographer, Sean Bobbitt, actually went inside the globe while they were performing the stunt. "It was all about that opening shot, which I think is one of the most beautiful opening shots I've ever seen in a movie," says Mendes. But in a freak accident, one of the motorcycle's engines died and it fell on Bobbitt's head. "He ended up having a concussion. It was really crazy," she says.
When I ask about How to Catch a Monster, which she will star in and will be directed by Gosling, she says she'll talk about it after it shoots this summer: "I'm superstitious. I never talk about anything I haven't done yet. But I'm really excited, of course." She won't confirm that her character works in a fetish club and is named Cat, "because she has two names … I don't want to disclose anything but not because I'm trying to avoid a question. I feel like there are no more surprises, whether it's in film, whether it's about an actor, whether it's about the ending of a story, the beginning of a story, what a character looks like. By the time we see the movie, we've [seen] paparazzi shots of the actor wearing the wig. Where's the element of surprise nowadays? So I don't want to blow it; if you hear it on the Internet it's one thing, but I personally, I want to stand by what I believe, which is a little mystery. Where's mystery, where did it go? I want it back."
She wants to work with Pedro Almodóvar so badly she found his e-mail. "And I've really sent him quite a few. I've bombarded him already. I need to step back," she says, laughing. Also, every time she does interviews in Spain, "I'm like, 'Can you tell Pedro … ?' and they're like, 'We know, we know, we know. We've told him. We've given him the message.' He's very lovely and sweet, but I think I need to back off now and let him make a choice on his own. I'm joking, but I really do want to do a film in Spanish."
Among the directors she wants to work with, she says, "David Lynch is like my 'Ahhhh!' Wild at Heart to me is the most beautiful love story ever." Mendes got into transcendental meditation after listening to the audio version of his book Catching the Big Fish, and asked to meet with him. "He was lovely. We had a coffee together and I was like, 'Oh my God, I can't believe I'm in the house where they shot Lost Highway."
If fun.'s "We Are Young" is on, she will start singing it. "I'm such a sucker for this song. It really got me."
She won't talk about Gosling, but confirms he let his mother raid her closet for the Gangster Squad premiere. "It was really fun. Didn't she look amazing? She looked beautiful. It was just a really sweet, very girly moment of like, 'You should wear these shoes with this coat, and you look beautiful, the bag looks beautiful …'"
From our photo shoot, she kept a Polaroid of her buzzing her lips. It was her idea to shoot the pic that way, "because I knew it would have a weirdo effect," she says.  "I'm obsessed with Cindy Sherman and Ana Mendieta," she says. "She's a Cuban-American artist who died in the mid-eighties — she was kind of like the Cuban Cindy Sherman, but bloodier and gorier, just darker; she was an incredible woman. You have to do a story on her. Just look her up, please. Anyway, my little wannabe Ana Mendieta–slash–Cindy Sherman in me likes to take — how do you say — deformed pictures of myself in little ways, so I have a collection I'm starting I've been doing it now for a few years, just with my phone or whatever."
She doesn't want tattoos. When we pass a tattoo parlor and I suggest we pop in, she says, "Not any time soon. Not any time soon at all."