ABC Canceled Zero Hour After Only Three Episodes
Apparently, <i>Zero Hour</i> aired three episodes.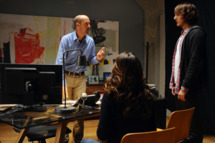 Did you guys know that ABC's Anthony Edwards–starring Zero Hour premiered? Because it has already been canceled, after only three episodes. This isn't a huge surprise, as it wasn't doing so hot commercially or critically. Our Matt Zoller Seitz wrote: "I'm pretty sure there's nothing that Zero Hour could have done to make me like it more. Or like it. Even a little." And the last episode brought in a pretty terrible 1.0 rating/3 share in the 18 to 49 demographic. It's a shame they couldn't have had a quick finale where Edwards dies, because as Schmidt says, "Nobody does an onscreen death like Anthony Eds."