Amber Tamblyn Cast in CBS FBI Drama
Opposite Skeet Ulrich.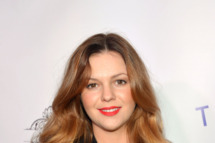 Amber Tamblyn has joined the cast of CBS's latest cop show, Anatomy of Violence. According to Deadline, she'll play Abby, a young officer who partners with "maverick" FBI criminal psychiatrist Adrian Raines (Skeet Ulrich). The pilot comes from Homeland's Howard Gordon, Alex Gansa, and Alex Cary, but the script is a straight police procedural: Raines wants to do things His Way, on account of his Dark Past! Abby can take cases too personally, on account of her own Dark Past! They learn form one another, and they solve crimes.