Please Just Enjoy the New Arrested Development Episodes Before Asking About the Movie
"Let's just enjoy this for now."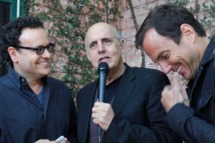 On a SXSW panel alongside Mitch Hurwitz and Jeffrey Tambor, Will Arnett offered a quick reminder before the next several years of Arrested Development movie questions begin: "We do have these fourteen episodes that are about to air, and people are already mad that we don't have the other — nobody's even seen these. Let's just enjoy this for now." Fine advice. And still, the movie's not off the table! Hurwitz said, "We very much want to do it," although there's no script or pitch yet.