The Best of Netflix Streaming: What's New and What's About to Expire
This week, a TV juggernaut and a Japanese masterpiece.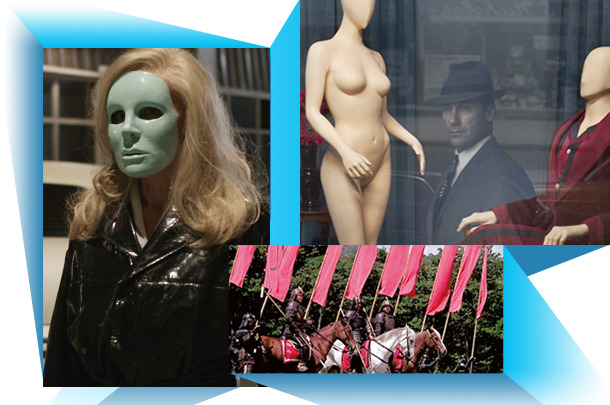 It's wild and wooly out there in the world of streaming video. As movies and TV shows become increasingly accessible through a variety of services, it has also become increasingly difficult to keep track of what movies are available where, what is expiring when, and what is actually worth watching. So every Friday, Vulture will have a list of recommendations of movies and TV shows that are new to Netflix (as well as Hulu, Amazon, On Demand and other streaming sites), those that are expiring, and those that you should just watch because.
THE NEW
Holy Motors (2012) — A warning up front: Parents, don't watch this with your children, and children, don't watch this with your parents. Not that either of those things was going to happen, but there's a scene in which star Denis Lavant walks around with a fully erect penis while Eva Mendes just stands around all nonchalant-like. I wish I could say this was the weirdest part of the movie, but it's not. Not even close. Holy Motors is hard to explain so I'll keep it simple: a man drives around Paris in a stretch limo and every time he emerges, he is a different character. Beloved by critics, this is not your typical film. It's not even your typical French film. It's so bizarre and jagged that you might love it one moment and detest it the next. But it's a straight-up experience, and most movies are just pictures you look at to briefly forget that you will one day die, so why not give this one a shot. (Now available on Netflix)
THE EXPIRING
Ran (1985) — The Japanese title translates to "chaos," among other things, and this film, based on Shakespeare's King Lear and directed by grandmaster Akira Kurosawa, has more than its share. A king splits his kingdom between his three heirs and unleashes the dogs of war (yes, we know, different Shakespeare, but it's appropriate here) and madness. It's a sweeping masterpiece, and Kurosawa's last. He's in total control here — the performances, the battle scenes, the use of color are all deliberate and work in concert towards one climax after another. The assault on the third castle (you'll know it) is still stunning in its mixture of assured camera work and complete, yes, chaos. Stay in and watch it tonight, because it's only available for one more day! (Available on Netflix, expiring Saturday, March 30)
THE CATCH-UP
Mad Men, Season Five (2012) April 7, people. April 7. That's the day that Mad Men returns for its sixth season, and I know we all have it written down on the calendars of our heart, but I shall say it again: April 7. That gives you a little more than a week to catch up on season five, which is now screening in full on Netflix. (And please use Vulture's catch-up schedule as your guide — season five starts with the show's 53rd and 54th episodes.)  If you haven't seen it you've probably absorbed a little of what happened — "Zou Bisou Bisou" and Fat Betty — but those are but small hills in an absolute mountain of a season. (Available on Netflix)