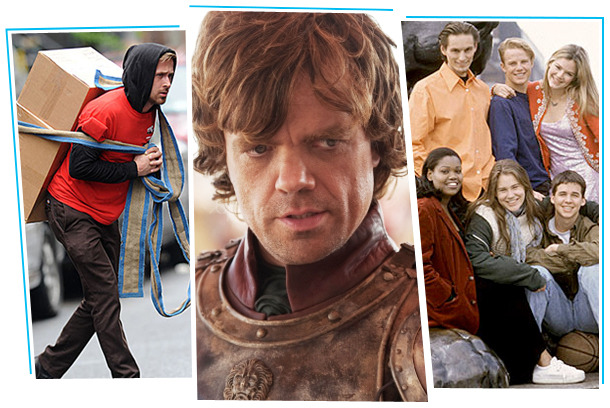 10 Pop-Culture Questions Answered by Vulture This Week
Every week, Vulture faces the big, important questions in entertainment, and comes to some creative conclusions. This week, we ranked Real World seasons, Strokes songs and Jurassic Park dinosaurs, covered the hell out of Game of Thrones' return, and tried to get to the bottom of Jennifer Lawrence's hair. You may have read some of these stories below, but you certainly didn't read them all. We forgive you.
Q: Is Ryan Gosling an expert at dropping things?
A: Nope. As Amanda Dobbins and Margaret Lyons showed, he's an expert at carrying things. 
Q: Who was the best dinosaur in Jurassic Park?
A: Trick question: all the dinosaurs. Fine, some were better than others, as Kyle Buchanan's ranking proves.
Q: With all that sex, how do the wigs stay on in The Americans?
A: Take a close look at all the wigs from The Americans thus far. (Spoiler Alert: There are a lot of them.) 
Q: What has been the most ludicrously radiant new sitcom of the year?
A: Matt Zoller Seitz makes the unexpected case for the glories of that alien neighborhood show, The Neighbors. 
Q: What the hell is hidden in Jennifer Lawrence's new hair?
A: Kyle Buchanan speculates a whole bunch of stuff, like a copy of First Wives Club and Quvenzhané Wallis's puppy purse. 
Q: When ranking the top 25 Strokes songs, what percentage comes from Is This It and Room on Fire?
A: 56 percent, based on Amanda Dobbins and Jesse David Fox's list of the Best 25 Strokes songs. 
Q: Were all the writers of your favorite TGIF shows miserable, lewd assholes?
A: Nope. As Josef Adalian's interview with many of them showed, they actually liked their jobs quite a bit. Though they did curse a bunch, so don't tell Mickey Mouse.
Photo: Splash News; HBO; MTV