The Croods Slouch to Top of Box Office
With <em>Olympus Has Fallen </em>in a close second.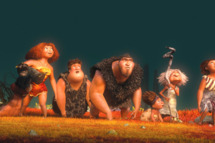 The Croods, Fox's animated tale of a dysfunctional caveman family, had a healthy $44.7 million first weekend, while Gerard Butler's White House disaster flick Olympus Has Fallen opened at a strong second with $30.5 million. Oz the Great and Powerful is still holding its own with a three-week, $178.5 million box office total — good news for James Franco, whose other movie, Spring Breakers, staggered into the box office with $4.5 million. Tina Fey-Paul Rudd comedy Admission also under-performed, pulling in just $6.4 million, while Steve Carrell's The Incredible Burt Wonderstone has yet to break $18 million. And in eighth place: Jack the Giant Slayer, which earned just $4 million in its fourth week, leaving it with a $59.1 million total.