Composer Ennio Morricone Respects Quentin Tarantino After All
Those nasty words were "a partial writing" of his thoughts.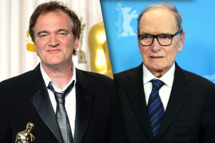 Last week it looked like Italian composer extraordinaire Ennio Morricone had some unsavory feelings about his great admirer Quentin Tarantino. Morricone reportedly told a group of Italian students, "I wouldn't like to work with [Tarantino] again, on anything," and that QT "places music in his films without coherence." Now Morricone tells EW it was a misunderstanding, "a partial writing of my thoughts which has deprived the true meaning of what I said, isolating a part from the rest." He adds that he has "great respect" for Tarantino and was glad to collaborate.