Erykah Badu, Pharrell, Frank Ocean to Appear on Tyler, the Creator's Wolf
And Stereolab's Laetitia Sadier.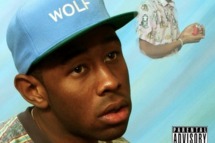 Tyler, the Creator really, really loves N.E.R.D. So feel free to wish the guy a big congrats on getting Pharrell Williams on his upcoming album Wolf. Pharrell appears on a track called "IFHY" ("if...you...hate...you"? "I flip hats, yo"?), while two more of the Odd Future front man's favorites, Erykah Badu and Stereolab's Laetitia Sadier, will show up as well. Frank Ocean will guest star twice, Earl Sweatshirt once. There are songs called "Jamba," "Jornada," and "Trashwang." No sign of Miley Cyrus.