Ex-Model Sues Mad Men Over Opening Credits
Gita Hall claims that her likeness was used without her permission.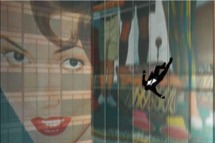 Gita Hall, a fifties-era model and actress, claims that a Revlon hairspray ad she shot with photographer Richard Avedon is used in Mad Men's opening title sequence without her permission. "The Main Titles were integral to the success of Mad Men," the lawsuit against production company Lionsgate reads, and "[Hall's] likeness appears more prominently and directly than any other image in that sequence." The complaint, which seeks unspecified damages, also explains why it took Hall so long to notice the issue: She doesn't have cable TV, so she didn't see the shot until Mad Men came out on home video.