Fifty Shades' E.L. James Has Some Writing Advice to Share
She's publishing a "how-to" book.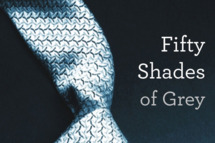 It's hard to top the actual news on this one: E.L. James, the author of the blockbuster mommy porn trilogy known as Fifty Shades, is publishing a writing guide. Fifty Shades of Grey: Inner Goddess (A Journal) will combine "professional advice from the million-selling author and lined pages for readers to set down their own ideas, or 'inner goddess.'" Wait, "inner goddess" just means random book outlines? We've been deities this whole time.