Girl Meets World Update: Here's Cory and Topanga's Son
Meet your Elliott Matthews.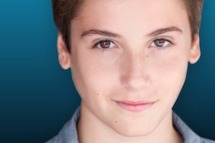 He's Teo Halm, whose IMDb page is fresh snow, almost totally unblemished, not dissimilar to that of recently cast co-star Rowan Blanchard. Though young Elliott Matthews won't be the protagonist of Girl Meets World, the male offspring of Boy Meets World's Cory and Topanga should have a decent-sized role on the sequel-series. Elliott is described as "good hearted except for his dedication toward using Riley [his sister] as his wrestling practice dummy." He and his sister will appear on your TV later this year.