Homer Simpson Sent Vulture an E-mail About Our Sitcom Smackdown
He's got his eyes on <em>The Wire</em>.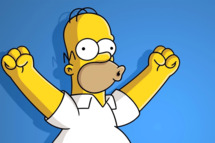 Earlier today, The Simpsons was crowned the winner of Vulture's Sitcom Smackdown. We just received a (somewhat) gracious e-mail from Mr. Homer J. Simpson himself (by way of showrunner Al Jean). "We're not stopping here," Homer wrote. "We want The Wire (last year's Vulture drama winner). C'mon, paper champion! Get in the ring with a real man! Also, thank you, New York Magazine. It's a great honor to win this highly original parody of March Madness brackets." Any time.