Jack the Giant Slayer Is a Giant Flop
This weekend's box office numbers were generally bad.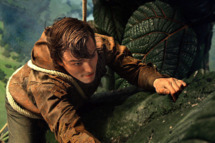 After celebrating Argo's Best Picture win, Warner Bros. has a possible John Carter-sized disaster on its hands with Jack the Giant Slayer. The CGI-heavy film, which cost a whopping $200 million, has only earned $26 million since Friday (though that was still enough to come in first at this weekend's generally weak box office.)  Also debuting this weekend were Hangover-lite 21 and Over ($9.1 million) and The Last Exorcism Part II ($7.9 million), which failed to outshine Identity Thief, now in its fourth week and holding onto second place with a $9.7 million haul. The only good news this weekend: The Hobbit: An Unexpected Journey has become the fifteenth film to ever break $1 billion in global ticket sales.