30 Rock's Five Top Musical Moments, Picked By the Show's Composer, Jeff Richmond
So many to choose from! Which made the cut?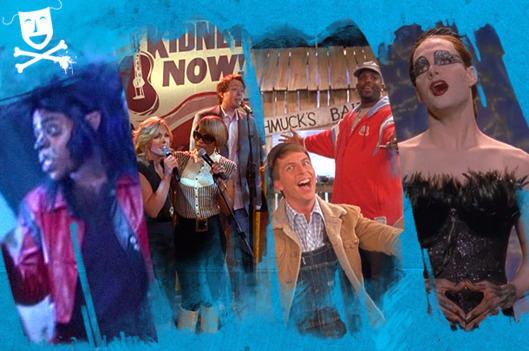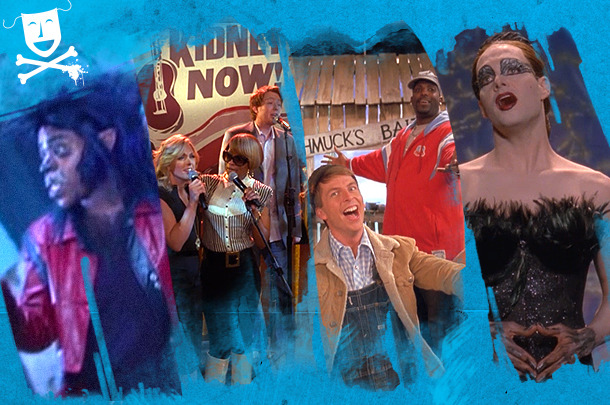 Jeff Richmond has written infectious and surprising music for many of his wife Tina Fey's projects, like Saturday Night Live and the film Baby Mama. But his most memorable and instantly hummable work comes from 30 Rock, for which he not only wrote the jaunty score but also produced the comedy's many memorable stand-alone songs, from "Kidney Now" to the modern Hebraic classic "Werewolf Bar Mitzvah." On the occasion of 30 Rock's battle in today's Sitcom Smackdown competition, we called Richmond to chat about his favorite musical moments from his seven seasons on the show.
"Werewolf Bar Mitzvah," from "Jack Gets in the Game" (season two, episode two)
"As soon as it aired, there was a lot of chatter on the blogosphere, and morning D.J.'s were playing this little snippet. I remember running to the writers' room saying, 'We don't have the whole song! We have to get this song out! People will play this at Halloween parties!' So we wrote the whole thing in reverse. We had that little hook phrase, which was in the actual episode, and then the day after it aired, we went back in and wrote a three- or four-minute version of the song and leaked it out. Also, in the episode, Tracy sang it sitting down because he was having somebody operating on his foot while he sang. It was when he was having some diabetic trouble, and somebody was, like, working on his foot while he sat in front of a microphone singing this song. That's how good Tracy Morgan is."
"Kidney Now!," from "Kidney Now" (season three, episode 22)
An all-star chorus of voices — including Mary J. Blige, Elvis Costello, Adam Levine, Sheryl Crow, and many more — gathered to perform a charity song to help get a kidney transplant for Jack's recently discovered father, Milton (Alan Alda). "This was kind of a last-minute thing. A couple things about it that I remember was that, one, if we didn't get anybody, we wouldn't have an episode, because the whole episode was based on the pretense of getting enough people to make it look like a 'We Are the World' situation. So that put the fire under everybody. The next thing I remember about it was that it had to be done in one day: taping it, recording it, and shooting it. So not only did we write the song, we had to lay it out — who was singing first, and who would sing with [Jenna]. We'd bring people in, in groups of three or four. We'd rehearse the part, record the part, let them jump ahead to the end of the song to do the chorus, then let them go back to the green room. And then the next group of people [would come in]. This took about three hours. So just the military fashion of this plan that had to be implemented is one of things that I'll remember about it the most. It was one of those things that could have just gone horribly. And thinking about it now — no one wants to show up with peers of their industry and be unprepared."
"Painting Brushes," from "It's Never Too Late for Now" (season five, episode fifteen)
"In the script, it was a Joni Mitchell song playing in the background, and it was the end of the season and we didn't have money to clear songs anymore. After the 'Night Cheese' incident — which is where Tina sang 'Night Cheese' — which was like a second and cost, like, $50,000, the network was like, 'You guys gotta chill it.' So it was the day of the mix — it was Monday and the show was on Thursday — and I said, 'Tina, you gotta do this Joni Mitchell thing,' before she had to go in to shoot. So we went into my little studio at the house, and she improvises this Joni Mitchell thing, and it was just killing me. It was reminding me of old Second City — making up songs — and she just made this thing up in one take. It made me laugh. I never laugh at my wife — that was really funny."
"O Holy Night," from "Christmas Attack Zone" (season five, episode nine)
"We'd somehow gotten the information for what [Black Swan] looked like, because the movie wasn't quite out yet. So shooting it, we were able to get what that look was, and I think it's one of the most beautiful pieces of music sung in such an ironic context. I worked at Saturday Night Live so long with Will [Forte], I knew that he can sing as high as you want him to. He's got a very amazing bizarre instrument, so he really is that above Jane [Krakowski], singing that high soprano part above Jane. And he did it in one or two takes. So all those high notes are just him, and then there's Jane singing her part."
"Midnight Train to Georgia, from "Episode 210" (season two, episode ten)
"This was one of the first times we ran into this whole 'breaking the fourth wall' situation, where the show turned into a musical number. It was the last thing we shot at, like ... it was late Friday night. I think the strike had started when we were finishing up. I'm not WGA, but the other producers are, so I remember I was the only person on the set that whole week — and we felt like, if we didn't come back this year, we felt like we had a finale. Because of that energy, it was a very special thing."