John Mayer Plans First Tour in Three Years
His throat's all healed.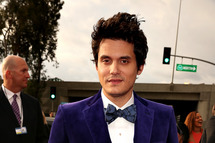 Newly Katy Perry-less John Mayer is on the cover of Billboard, talking about his vocal cord surgery and the announcement that he's hitting the road again. "I probably had contiguously three, maybe four months of not saying a word," says Mayer, revealing that he used an iPad to communicate. "It's hard to believe that I'm healed, but just to make sure, I keep going back every two weeks for a look, and it's the same — if not better."