Justin Bieber Gets Hospitalized, Makes It Sexy
Hospital stay = shirtless Instagram pic.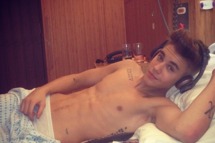 The Biebs is bringing the drama to the U.K. this week. He was hours late to a concert on Monday, then collapsed backstage after another show at the O2 Arena on Thursday. With four songs left in his set, Bieber was given oxygen and advised to head to the hospital, but finished the show anyway. At the hospital later, he Instagrammed this shirtless photo and tweeted that he's "getting better" and "figuring out what happened." Do your thing, #prayforjustin hashtag.