Justin Timberlake's New Album Now Streaming on iTunes
Bring it on in to iTunesville.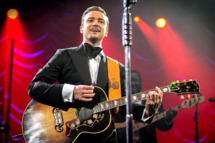 Want to check out Justin Timberlake's new album The 20/20 Experience over a week before its March 19 release date? The singer and frequent Saturday Night Live host announced today via Twitter that 20/20 is now streaming over on iTunes. Is the whole album rendered in expectation-subverting but agreeable midtempo tones? Let's find out together!