The Kids Love Kristen Stewart, Hunger Games, and Justin Bieber, Obviously
Also: Selena Gomez and Katy Perry.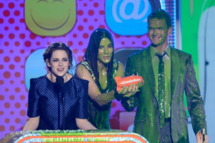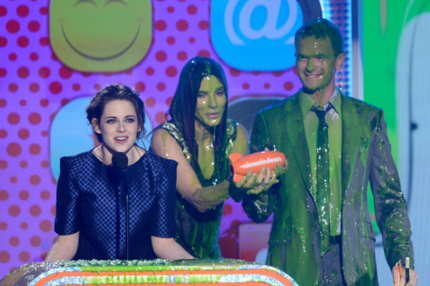 Twilight may have swept the Razzies (and appalled adult critics), but it went over well at Saturday's Nickelodeon Kids' Choice Awards, where Kristen Stewart got a Favorite Movie Actress blimp. (She also won Favorite Female Buttkicker for the critically panned Snow White and the Huntsman.) Other big winners included Selena Gomez, who won Favorite TV Actress despite her very non-kid-friendly turn in Spring Breakers (out this weekend); Hunger Games, which took home the Favorite Movie and Favorite Book prizes; and the various celebrities covered in green slime (such as Sandra Bullock and Neil Patrick Harris). And, of course, Justin Bieber nabbed the Favorite Male Singer.